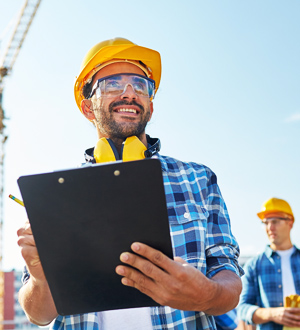 Whether you're an electrician, builder, carpenter, plumber, landscape gardener or a cleaning service provider, it is important that you are insured as a tradesman. If you're looking for a tradesman insurance policy in Kent that provides you with adequate protection at a competitive premium rate, then get in touch with us.
We are a leading, trusted and well-reputed tradesman insurance broker in UK helping tradesmen find the right policies with comprehensive coverage at the best rates. From plumbers to builders, plasterers and electricians, we provide insurance coverage policies to over 100 plus trades, ensuring that you get the protection you desire and deserve as a tradesman.
Tradesman Insurance Policy Covers
With us, you can get your insurance policy tailored with covers like:
Public liability - This covers any compensation claim from the public, visitors or property owners to your premises. It includes both personal injury as well as property damage.
Employers' liability - This coverage is a must in the UK whether you employ full or part-time staff.
Tools - This cover protects your own tools and your employee's tools when they are working for you. It also covers for any specialist equipment that you might hire for use.
Specialist cover - We can also help you get special covers such as JCT (Joint Contracts Tribunal), or CAR (Contractors All Risk) for your personal or hired in plant and professional indemnity for PAT testing.
How We Help You?
Unlike other insurance brokers in UK, we help you find the best policy. We search from our widespread network of insurers until we find the right tradesman insurance policy that best suits your business needs and nature of work. More importantly, the policies remain flexible which means your insurance policy grows with your business. In other words, you can adjust your insurance cover when you hire new employees or buy new equipment, keeping you, your employees and business well-protected from accidents and injuries.
Give us the opportunity to serve you! Get in touch with our insurance brokers in UK to help you find the right tradesman policy at the best rates.